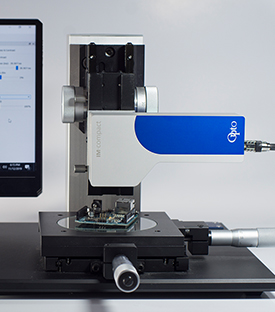 The MVM is part of the new Imaging Module family in the 90° IM-compact M design and stable aluminium housing, with a single connection (plug&play). Imaging Modules are optimized combinations of camera, optics, illumination and electronics for a specific application at the same or lower price than a combination of standard components. They are not only more robust and better adapted to the application, but also ensure the same configuration when re-ordered.
The Machine Vision Microscope MVM is one Unit, Plug and Play.
A pure Digital Microscope for the following Applications:
- Hardness Testing
- Bond Inspection
- SMD Control
- Solar panel Analysis
- Measurements and Documentation
- Surface Analysis
- Rheology
- Scratch Analysis
- Crystal Measurement
- Adjustment Tool
- Micro Connector Measurement and much more...