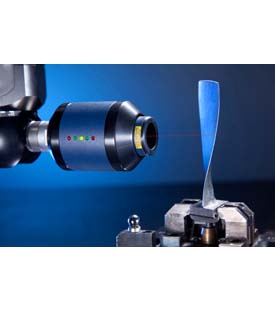 - WIZblade module includes embedded calculation and best-fit parameters definition per blade manufacturer (vendor).
- WIZblade module allows to generate inspection program automatically including safety moves and scanning parameters definition,capability to measure machined small Leading and Trailing Edge profiles precisely on the pre-defined cross-section.
- WIZblade module provides automatic 3D scanning and surface tracking capability for blade alignment and scanning
- WIZblade module toolbar is intuitive and easy to use.
- System precision does not depend on surface finish, color, inclination angle ,material.
- Nextec software -Hawk is user-friendly and flexible for advanced usage, any required special function or calculation can be easily added by user and to be used in the future in other inspection programs.
- Hawk embedded Geometric Dimensioning and Tolerance (GD&T) functionality allow to provide full range of dimensional analysis in automatically generated inspection report.
- Hawk allows to create applications based on CAD model or non -CAD applications.