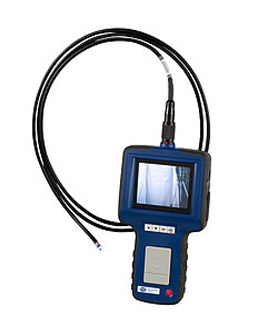 PCE-VE 360N Industrial Borescope
Small-diameter flexible downhole waterproof inspection camera or industrial endoscope
PCE-VE 360N is a small-diameter industrial borescope, inspection camera or industrial endoscope for the non-destructive inspection (NDI) of engines, machines and more. This industrial borescope is an ideal tool for diagnosing issues in hard-to-reach places. The waterproof camera head features 3 LED lights with automatic illumination. In addition, digital image magnification or zoom of up to 2 times is available.The borescope stores the recorded images and videos directly to an SD card memory(included),allowing easy transfer to a PC.The front and side view cables of 1 m / 3.28 ft cable length and 3.9 mm / 0.16 in diameter allow the video inspection camera unique access to view the insides of walls,pipes,vents,ducts,engines and machinery,thus eliminating the need for costly and time - consuming dismantling.Mechanical engineering, manufacturing, automotive, aviation, construction, plumbing and heating, ventilation, air conditioning and refrigeration(HVACR) professionals alike find this video inspection camera useful in a variety of applications.
***Not for medical use***
The boroscope with 3 LEDs
Cable diameter of only 3.9 mm / 0.15''
Cable Type: Semi-rigid (''gooseneck'')
Image and video recordings possible
Playback of the image data on the device possible
Memory: 8 GB SD memory card (incl.)
Cable diameter : 3.9 mm / 0.16 in
Cable length : 1 m / 3.28 ft
Depth of field : 1.5 … 10 cm / 0.59 ... 3.94 in
Field of view : 67°
Bending radius : 90 mm / 3.54 in
Illumination : 3 LEDs, automatic
Image sensor : CMOS
Picture rate : 30 frames per second (fps)
Display : 88.9 mm / 3.5 in TFT LCD monitor
Interface : Mini USB 1.1 / AV out
Storage options : Image or video
Storage : 8 GB memory card (can be increased to 32 GB)
Compression format : MPEG 4
Picture format : JPEG (640 x 480 pixel resolution)
Video output format : NTSC / PAL
Video format : ASF (320 x 240)
Operation and storage temperature : -10 ... 60°C / 14 ... 140°F
Voltage supply : Rechargeable 3.7V lithium-ion battery
Dimensions, handheld device : 207 x 118 x 37 mm / 8.15 x 4.65 x 1.46 in
Weight, incl. carrying case : 450 g / 1 lb
Protection type, camera : IP 68 = No ingress of dust; complete protection against contact (dust tight) and waterproof; meaning it can be underwater for 30 minutes at depths of up to 1.5 m / 4.9 ft