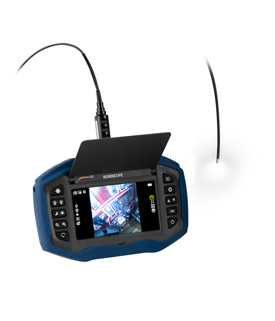 Industrial borescope PCE-VE 270HR
Battery-operated inspection camera with 2.8 mm (0.11 in) diameter / For inspecting motors and machine parts / Memory / HDMI output / Various camera cables
The inspection camera gives you new, visual insights into the interior of motors and systems. The inspection camera is the ideal tool for maintenance and repair in workshops or industrial companies. Optical analysis with an inspection camera has never been so easy. Guide the flexible cable through a hole or a cavity near the point to be inspected and look at everything on the display from the inspection camera. Thanks to the flexible guidance, the low weight and the excellent optics, you can use this inspection camera to identify weak spots and problem areas very easily and early and thus take preventive measures without having to carry out complex disassembly first. This inspection camera is extremely versatile,particularly due to the length of the flexible part(2000 mm) and the small diameter of 2.8 mm / 0.11 in. LEDs on the inspection camera illuminate the cavities.The waterproof lens and camera can also be used in liquids without hesitation.Make your daily work easier and use the inspection camera for the maintenance and inspection of your operational systems and machines.The inspection camera can be used to save images and videos for documentation on a memory card.The inspection camera can be connected to a monitor via the HDMI interface.
- 2 m / 6.56 ft cable length
- 2.8 mm / 0.11 in cable diameter
- Storage function on micro SD card
- LED light
- 0° viewing angle
- Miniature probe cable with 90° viewing angle option
Cable length : 2 m / 6.56 ft
Cable type : Flexible
Cable diameter : 2.8 mm / 0.11 inch
Degree of protection : IP 67
Field of view : 5 ... 50 mm / 0.2 ... 1.98 in
Field of vision : 120°
Perspective : 0°
Lighting : 4 LEDs
Exposure : Automatically
Anti-reflective coating : Automatically
Image sensor : 1/18'' CMOS
Camera resolution / image sensor : 400 x 400 px
Display : 5'' TFT screen
Interface : Micro USB, HDMI
Storage option : Image and video
Storage : Micro SD memory card (incl.)
Picture format : JPEG (400 x 400 Px)
Video format : MP4 (400 x 400 Px)
Video output : HDMI
Menu navigation : German, English, Chinese, Spanish, Portuguese,French,Russian,Japanese,Korean
Operating and storage temperature : -10 ... 50°C / 14 ... 122°F
Power supply : 3.7 V Li-ion battery, 5200-mAh
Battery life : Min. 6 h
Dimensions : 200 x 130 x 58 mm / 7.9 x 5.1 x 2.3 inch
Weight : 595 g / 1.3 lb