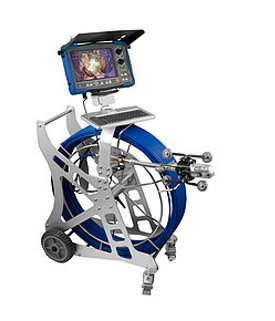 Industrial borescopePCE-PIC 120
Pipe camera with 120 m (393.7 ft) / IP68 camera head with PAN / TILT / Motor focus / Meter counting / Keyboard input possible / USB and HDMI / SD memory
The tube camera PCE-PIC 60/120 is used to inspect channels and pipes. Depending on the model, the tube camera has a 60 m / 196.9 ft or 120 m / 393.7 ft fiber optic push cable. At the end of the tube camera, a motorized camera head is mounted. This camera head is able to be moved 360° horizontally and 180° vertically. Furthermore, the camera has a motorized focus, which makes it possible to realize field of view depths between 20 and 100 cm. At the head of the tube camera are 4 ultra-bright LEDs, which perfectly illuminate tubes and channels. The tube camera has an electronic meter counter, which makes it easier to pinpoint damaged areas or blockages in pipes.

For documentation, images and videos can be recorded and saved with the pipe channel camera. For a better view of the image, the tube camera can be connected via HDMI cable to an external monitor. The tube camera takes pictures in 1080P, so no detail is lost. To add commentary to the scan, the USB keyboard can be used. The tube camera is supplied on a robust, made of aluminum, trolley. Additionally included is a trolley and a roller guide for the camera, which are used to mount the camera head. As a result, pipes and ducts between 80 and 1200 mm / 3.1 ... 47.2 in can be driven.


- 120 m / 393.7 ft channel camera
- With cable cars
- Large display
- Text input in the picture and video possible
- Motorized camera
- Engine focus
- Locator function
- ø9.5 mm fiber optic cable
Camera head diameter : 60 mm / 2.4 in
Head rotation : Horizontal: 360°,Vertical: 180°
Cable length : 120 m / 393.7 ft
Sight depth : 20 ... 100 cm
Perspective : 105°
Pipe diameter from / to : 80 ... 1200 mm / 3.1 ... 47.2 in
Lighting : 4 x LED (dimmable)
White balance : Automatically
Image sensor : 1 / 2.9'' Sony CCD,1920 x 1080 pixels
Display : 10.1'' LC display,1280 x 800 pixels
Interface : USB 2.0,HDMI
Memory option : Video (AVI), Photo (JPEG) and Sound
Image memory : SD card up to 256 GB
Video output format : PAL 1080P, 720P, CVBS,NTCS 1080P, 720P, CVBS
Menu navigation : Multilingual
Length measurement : 0 ... 120 m / 0 ... 393.7 ft
Data entry : Possible by keyboard
Operating conditions : -10 ... 50°C / 30 ... 90% rh
Storage conditions : -20 ... 60°C / 30 ... 90% rh
Power supply : Power supply 110V ... 240V AC / 13.5V / 5 A DC,Li Ion battery 12V / 6000-mAh
Protection class : Camera head: IP68
Dimensions : Complete: 87.5 x 97.8 x 40.6 cm,Camera head: 60 x 146 mm / 2.4 x 5.7 in (total length: 360 mm / 14.2 in)
Weight : About 35 kg / 77.2 lbs