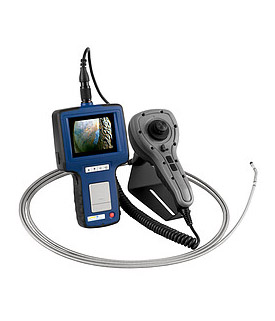 Articulating Borescope
four-way articulating borescope / inspection camera with IP67 ingress protection rating,boost functionality and 6 LED lights (4 front, 2 side) for optimal illumination
A few years ago, the task to find some faults or simply check the motor or complicated equipment piece seemed to be quite a challenge impossible. Disassembly and dismantling as a rule, always take a lot of time, efforts and auxiliary tools. The advantages of the non-destructive testing (NDT) and inspection (NDI) should not be even mentioned. Articulating Borescope by checking an aircraft motor.With the help of this articulating borescope, NDI has become a quite possible, almost easy-to-perform task. The borescope is equipped with the probe, which is neither too soft, nor too rigid, which facilitates its application in various pipes, ducts and systems with limited space.The user may have zero chance of viewing a object or part of an object to be examined with his own eyes,this task will be performed by the articulating borescope.First of all,the camera head is sufficiently protected and robust and can withstand not only dust, but also water, which is very important for obtaining good results.Dark environment is not a problem for the articulating borescope, since there is a sufficient number of the LEDs(in total, 6), which provide illumination whenever it is required.The digital screen on the device makes it possible for the user to follow the checking process live.In addition, the images and videos may also be stored for further evaluation and studying (SD memory card). On demand, they may all be transferred to the computer.Articulating Borescope by an inspection of a milling.Under especially complicated conditions the images may turn out to be of a very poor quality.Articulating borescope possesses a boost function, which provides image enhancement. Also, the user may use the zooming function which provides careful studying even of the most hidden and tiniest details.In addition to the main device, there is a rich selection of accessories which widen the scope of the possible tasks the borescope can perform.The portable device finds its application and becomes indispensable in many different fields, especially there where a problem is not on the surface, but is hidden inside of the machine, car, engine, complicated construction, somewhere in the HVAC system, in the meandering ducts and pipes etc. Any plumber, electrician, serviceman, engineer, mechanic, constructer as well as any user who wants to apply the device for some test in a daily life may confirm how much the articulating borescope facilitates their work and helps to improve the quality.Application of the articulating borescope is necessary not only to find some faults and reasons of problems, but for regular preventive inspections.Maintenance regular checks and inspection of the equipment and devices in many industries, tests during the auto production or in the service centres – all this helps to prevent many accidents and ensure long and reliable service life of many systems, vehicles and machines and, thus, safety of those who use them.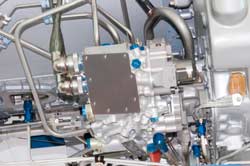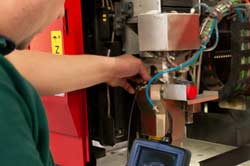 ***Not for medical use***
- with boost function: better images in dark surroundings
- flexible cable
- cable diameter: Ø 6 mm / 0.24''
- image capture / Photos and Videos
- LED lighting (2 additional side LEDs)
- Articulating 4-way optics
- 8 GB SD memory card
- robust carrying case included
Cable diameter : 6.0 mm / 0.24 in
Cable length : 1 m / 3.28 ft
Depth of field : 1.5 … 10 cm / 0.59 ... 3.94 in
Field of view : 67°
Bending radius : 90 mm / 3.54 in
Illumination : 3 LEDs automatic
Boost function : For improved image quality in the dark
Image sensor : CMOS
Picture rate : 30 frames per second (fps)
Display : 88.9 mm / 3.5'' TFT LCD monitor
Interface : Mini USB 1.1 / AV out
Storage options : Image or video
Storage : 8 GB memory card (can be increased to 32 GB)
Compression format : MPEG 4
Picture format : JPEG (640 x 480 pixel resolution)
Video output format : NTSC / PAL
Video format : ASF (320 x 240)
Operation and storage temperature : -10 ... 50°C / 14 ... 122°F
Power supply : Rechargeable 3.7V lithium-ion battery
Dimensions, handheld device : 207 x 118 x 37 mm / 8.15 x 4.65 x 1.46 in
Weight, incl. carrying case : 450 g / 1 lb
Protection type, camera : IP 67 = Dust tight, no ingress of dust, complete protection against contact. Protected against liquid immersion up to 1 m / 3.28', ingress of water in harmful quantity shall not be possible when the enclosure is immersed in water under defined conditions of press and time (up to 1 m / 3.28 ft of submersion).