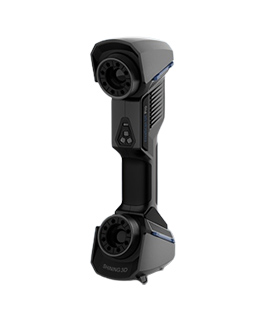 Brand Summery
FreeScan UE Pro inherits the high-precision, metrology-grade accuracy, and lightweight design of FreeScan UE, while improving the ability of fine scanning and global precision control of large-scale workpiece scanning. It adopts 26+5+1 blue laser lines and integrates a photogrammetric module. Taking into account speed, accuracy and details, this professional 3D metrology solution can be applied to different sized scanning scenarios and perform metrology-grade accuracy inspection, reverse design, additive manufacturing and other applications.
Features
Metrology-Grade High Accuracy
Accuracy up to 0.02mm, delivers consistent scanning results with high precision.
Global Precision Control
Integrated photogrammetry function no need to apply coded targets,quickly locks the spatial position of the target frame.
Multiple Scanning Modes
13 cross laser lines to scan large objects quickly, 5 parallel laser lines to scan fine details and single laser line for deep hole and pocket area scanning.
Easy Operation
Inheriting the lightweight and ergonomic design of the UE series, the user-friendly scanning software enables an easy operation and shortens the learning curve.
Wide Range of Material Adaptations
Supports scanning of black and high-reflective surfaces, more efficient scanning process.
Fine and Rich Details
With higher resolution cameras and 5 parallel laser lines, FreeScan UE Pro enables rich feature object scanning and restores fine details more accurately.
Over-the-Air-Update
Whenever there is a new update, a notification pops up to enable a direct download of the free software.
Seamless docking to inspection and design software
The scan data can be imported into all mainstream 3D inspection and design software programs, such as Geomagic Control X, Geomagic Design X, and Verisurf Inspect with one click, improving the workflow efficiency.
Applications
Automotive
Railway Transportation
Aerospace
Energy Manufacturing
Mold Inspection
Machine Manufacturing