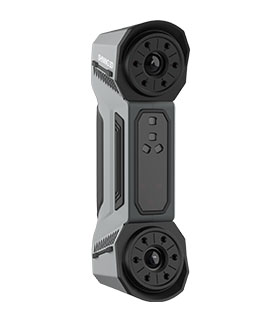 Brand Summery
The FreeScan Combo, with a small size of 193x63x53mm and weighed only 620g, has dual light sources: blue laser and infrared VCSEL.
Being a lightweight and portable metrology nscanner , it is equipped with four working modes: multiple lines scanning, single line scanning, fine scanning, infrared scanning.
It can be used to achieve metrology-grade precision inspection, reverse design, additive manufacturing, and other applications in many manufacturing sectors, including the automotive industries, aerospace, rail transportation, heavy industries, mold manufacturing, casting and foundry and medical industries.
LIGHT SOURCE :- Blue laser + Infrared VCSEL
ACCURACY :- Up to 0.02mm
WEIGHT :- 620g
COMPACT SIZE :- 193mm×63mm×53mm li>
Features
BLUE LASER + INFRARED LIGHT
An innovative combination of blue laser and infrared light sources meets the needs of diverse industrial 3D scanning scenarios.
4 SCANNING MODES, MULTIPLE SCAN CHOICES
26 laser lines for global scanning
7 parallel blue laser lines for fine scanning details
1 single blue laser line to obtain deep hole data
Infrared light source scanning fast and without markers li>
26 LASER LINES
Global scanning, smooth and efficient. No fear of black or reflective surface.
A WISE CHOICE FOR METROLOGY APPLICATION
Metrology-grade accuracy, the accuracy under laser scanning mode can achieve up to 0.02mm.
PRECISE AND FINE DETAIL SCANNING
Smaller scanning area with 7 parallel laser lines.
DEEP HOLE SCANNING WITH COMPLETE DATA
Optimized lens angle and single line for better acquisition of deep hole data. Ensuring complete data for full-size 3D inspection.
INFRARED LIGHT SCANNING
No markers needed for feature-rich workpieces. Infrared light source can be used directly to scan quickly.
POWERFUL AND ERGONOMIC
Ergonomic design, compact, convenient and easy to use. Metal case in line with modern industrial aesthetics.