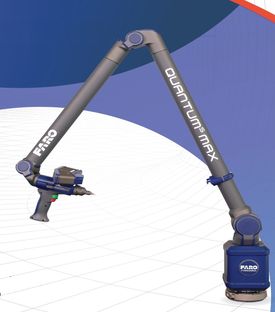 Purpose-Built LLPs
Now the tradition continues with the all-new Quantum Max ScanArm and its three hot-swappable FAROBlu® LLPs that meet any measurement need. With options to dramatically increase the scanning speed or resolution, getting the job done as quickly and precisely as possible has never been easier. With maximum flexibility, extended arm reach and a redesigned end effector with dual kinematic LLP mounts, value and productivity is maximized by over 30%.
The Quantum Max features the fastest, most detailed scanning available on the market today, accelerating project completion time while enhancing overall productivity.
Benefits
Maximum Versatility
The new Quantum Max offers 2 times the versatility from previous models. Dual kinematic seats allow for hard probe and LLP interchangeable mounting positions to easily move the LLP from top to front mount, enabling greater access to small spaces or hard to reach areas without the need to recalibrate. The quick release handle also offers dynamic holding options.
Maximum Performance
Three FaroArm models offer basic, standard, and premium performance options—available in various working volumes from 2.0m to 4.0m. Improved rigidity and stability deliver optimized accuracy and repeatability with superior performance while maintaining shop-hardened ruggedness for use in the harshest factory environments. The new 2.0m working volume arm delivers the best accuracy in its size category.
Maximum Reach
Each FaroArm model comes with up to 25% longer reach, offering more comfortable articulation for better extension over and around larger objects positioned within its specified working volume. Combined with the FARO exclusive 8-Axis Max rotary worktable, the need to relocate or reposition the device is virtually eliminated—and inspections can be completed in a fraction of the time.
SmartFactory Ready
FARO CAM2 ® Software, a powerful 3D measurement platform designed to efficiently complete quality assurance and inspection tasks, is perfectly suited to manage repeat inspection routines with live-trend and statistical process control (SPC) analysis. When combined with the Quantum Max, CAM2's Repeat Part Management feature allows guided inspection routines to be pre-programmed into the software. Every operator can now perform the exact same inspection routine, thus minimizing variability and maximizing repeatability. Data records are digitally stored, analyzed, and maintained so trends can be identified and appropriate actions are taken when parts begin to deviate from their nominal tolerances.
Three unique models help boost productivity collectively or individually. All LLPs come with the exclusive FARO Continuous Light Rectifications (CLR) scanning technology, providing users with the highest quality scan data possible on dark, translucent, and reflective surfaces.