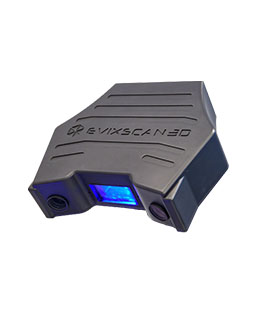 3D Optima+ M scanner
3D Optima+ M scanner is designed for reverse engineering, non-contact quality control and rapid prototyping of medium size objects.
eviXscan 3D Optima+M scanner replaced the previous Heavy Duty Optima model. New scanner has modern high-speed cameras of 7 MPix resolution and a new projector with higher light source intensity. The scanning area was increased by 43% and it is now 320 x 190 x 120 mm. At the same time the scanning time decreased 4 times and is 1.2 seconds.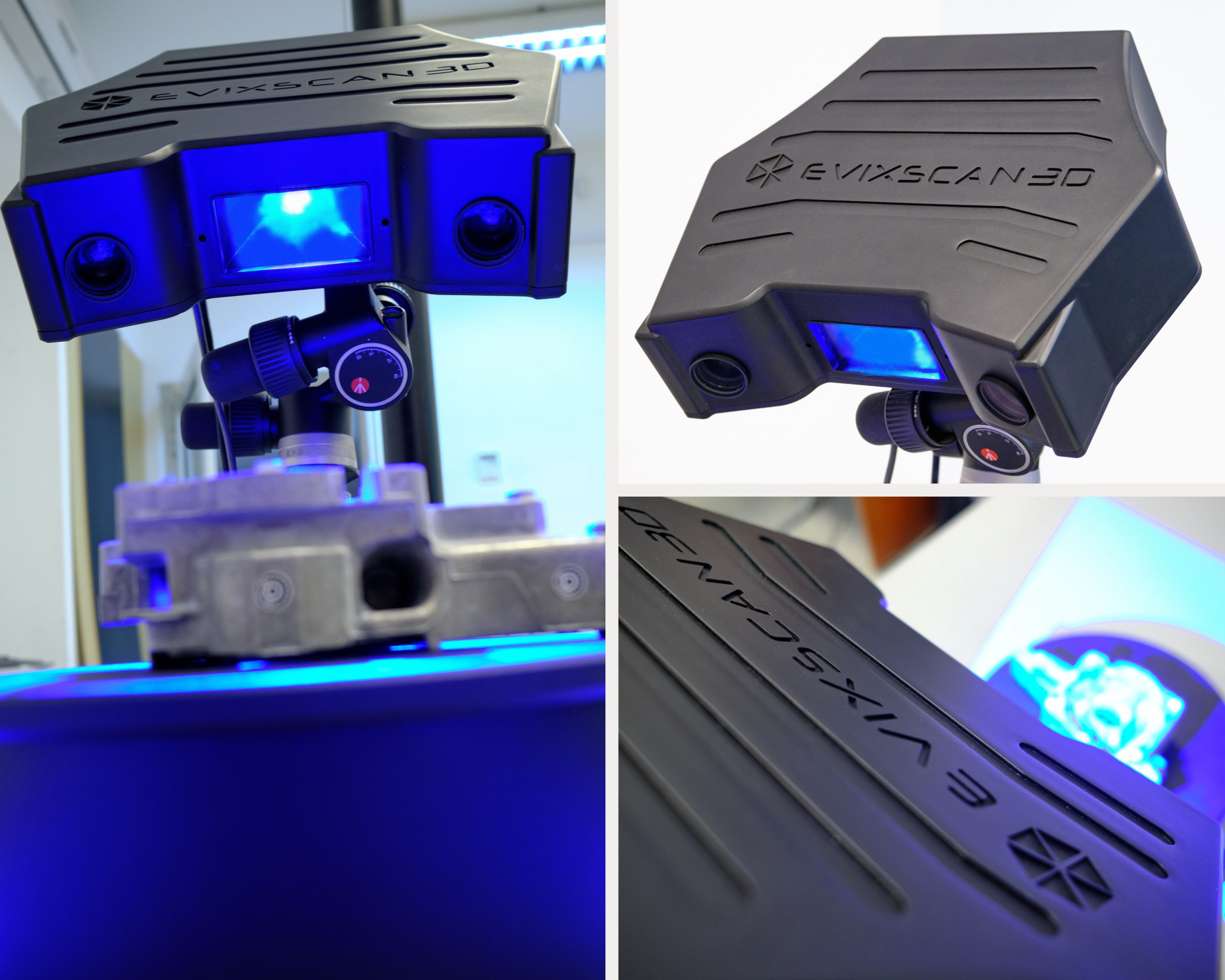 New Optima+ M - optimal scanner
- Precise CAD reproduction
- Reconstruction of damaged parts and components
- Measurement of difficult to measure objects
- Non-contact quality control object made of materials such as glass, rubber, plastics
The universal scanning range of the eviXscan 3D Optima+ M scanner guarantees excellent quality scans of details from 7 cm up to 100 cm in size. This makes the device suitable for most applications. The excellent value for money makes the scanner affordable even with a limited budget.
Optima+ M provides a high density of scanning points (117 pts/mm2) and high accuracy (declared accuracy up to 0.009 mm according to VDI/VDE p2 Ps).​ In addition, Optima+ M has a reduced distance between scanner and the object by 230 mm which facilitates the operation of the measuring device during scanning.
Robotized systems are another area where the new Optima+ M scanner can be used. Its lightweight, compact design makes it easy to integrate with a robot. The scanner also has dedicated software for Universal Robots, which guarantees smooth system implementation and easy operation. An additional advantage of Optima+ M is the possibility of cooperation with the entire portfolio of accessories.
Applications areas for eviXscan 3D scanners



Reverse engineering




The triangle mesh maps surfaces and forms the basis for creating CAD models of an object. This allows creation of technical documentation for an object. The resulting model can be used to manufacture a replica, or as a starting point for the design of new products or variations.




Quality control




The scanned product is compared with a reference CAD model to create colour deviation maps.This allows accurate verification of tolerances on manufacturing drawings and measurement of elements that are difficult to measure by other methods.




Rapid prototyping




Producing prototypes quickly and cheaply is an important strategy for gaining competitive advantage today. A precision 3D scanner, such as eviXscan 3D, is an essential part of the rapid prototyping process.
| | |
| --- | --- |
| Technical specifications: | eviXscan 3D Optima+ M: |
| Light source type | Blue LED |
| Number and type of cameras | 2 x 7 Mpix |
| Scanning accuracy according to DE VDI/VDE2634 Part 2, 4.1 P | up to 0.009 mm |
| Scanning time | 1.2 second |
| Measuring range | 320 x 190 x 120 mm |
| Points density | 117 pt/mm2 |
| Computer connection | USB 3.0 |
| Export formats | stl, ply, obj, asc, bin |
| Hardware requirements | Windows 10 (64 bit), 16 GB RAM, CPU i5 |
| Software | eviXscan 3D Suite |